Datum: Fredag den 20 juli
Instruktör/Domare: Gaynor & Ron Gent (UK)
Hemsida: http://www.mistigrigundogs.co.uk/index.html
Kurstid: kl. 09:00 – ca 16:00
Antal hundar: Max 12 (Medlemmar i Swedish Gundog League har förtur. Läs mer på www.swedishgundog.se/)
Pris: 1600:-
Upplägg: Tanken är att lägga upp dagen som ett Field Trial med chans att träna vidare även om man "åker ut". Åker man ut får man en bindel på armen men har fortfarande möjlighet att fortsätta och få sina apporter bedömda. Du kan dock då inte vinna denna "tävling". Det kommer också finnas utrymme för att höra domarnas diskussioner och varför de bedömt apporterna som de gjort. Det blir alltså inte så många apporter var, men chans att lära sig av andra och en möjlighet att testa om din hund (och du själv) håller ihop för en hel dags prövningar. Vi tror på en hel del givande diskussioner samt enskilda tips och råd till varje ekipage.
Gör din anmälan HÄR. (SGL-medlemmar har förtur så skriv ditt medlemsnummer under meddelande på anmälan.)
Möjlighet att beställa lunch finns. Skriv det i anmälan. Anmälan är bindande.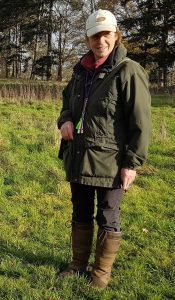 I started with Labradors in the show ring some 30 years ago qualifying for Crufts however when I had my first working bred Labrador that was it I was hooked.
I am an A panel retriever judge which has taken me around the country judging many Novice, All Aged and Open Field Trials and working tests. I have judged in many countries and have also been to Sweden training.
Myself and my husband (a B Panel Judge) have had many successes in both Field Trials and working tests, the highlight was my dog Thistle Jack at Mistigri qualifying for the Retriever Championship.
For several years I have been a professional trainer, training dogs and people with their dogs and also train dogs for the shooting field both as peg dogs and picking up dogs, however my winter weekends are taken up with picking up with my team of Labradors, Golden Rerievers and Cocker Spaniels.
I breed under our affix of Mistigri and and our puppies have been sold far and wide with people coming back over the last 30 years for their next puppy.
Gaynor Gent
Mistigri Gundogs