Datum: Lördag-Söndag 1-2/8
Instruktör: Paul David Toal
Hemsida: http://www.altiquinlabradors.com
Kurstid: ca. kl. 09:00 – 16:00
Antal hundar: Max 8
Pris: 3200:-
Gör din anmälan HÄR.
Möjlighet till boende och mat finns att beställa och du bor och äter då här på vår gård där kursen hålls. Anmälningsformulär till boende och mat skickas ca 1 månad innan kursstart.
Presentation: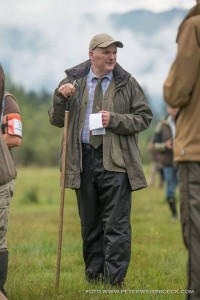 I am absolutely delighted to be asked to take a training group of Retriever enthusiasts in Sweden once again.
I have judged and trained on a number of occasions, throughout Europe, and I have always enjoyed spending time with these dog-men and women.
I look forward very much to meeting old and new friends.  
To tell you a little about myself, I started training dogs in 1986. This was a dream I maintained throughout my life.
My early memories, at the age of 4, were of training some 'farm-animal' to do something whilst on holiday with my family, and my Dad telling me stories of his dogs when he was young in Ireland.
As soon as I graduated University, working in Bristol, I bought a house just so I could have the freedom to own my first dog. My passion was ignited! 
I read voraciously. I trained with many excellent dog trainers in the West Country of England and learnt as much as I possibly could from whoever was willing to teach me.
In 1997 I moved to Ireland, in a bid to gain the freedom I yearned for, so that I could become 'serious' in the art of training the Labrador.
I applied for my affix/prefix with the British and Irish Kennel Club; Altiquin Labradors was born.
Here in Ireland I now have raised up and trained 3 FT Champions:  FTCh Altiquin Egan, FTCh Glenanne Abel, and FTCh Altiquin Ripple, as well as training many other dogs.
All three of my Champion dogs have competed for Ireland in various international competitions, competed in the
Irish Retriever Championship and FTCh Glenanne Abel received a Diploma of Honour in the 2009 Championship.
I am honoured to be an 'A' Panel Judge with the Irish Kennel Club. I am devoted to helping and guiding others as they try to find their feet in the world of Retriever Training in Ireland and Europe. 
I have been delighted to accept many training and Judging appointments in Sweden, the rest of mainland Europe and the USA.
I am thrilled at the prospect of returning once more to Sweden where I have enjoyed so many wonderful days.
I am very much look forward to meeting and training with you.